Gotta Get It Gone? Fill It Up and We'll Haul It Away!
Whether your need is for residential or commercial use, we have 2 sizes of containers available to you: 15 and 30 yards.
We'll deliver your dumpster to your location, place it safely and precisely where you need it, and remove it in a timely manner when you're done. We are committed to responsible disposal standards so you can feel at ease about what happens after we pick up your dumpster.
Timely delivery
2 sizes to choose from
Quick and responsible removal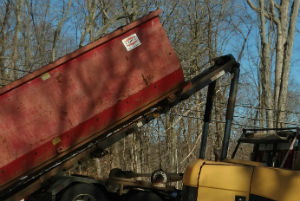 Got a lot of stuff you need gone? Call Cahill at 860-349-8551 and we'll drop off a big or even bigger dumpster. You fill it, we'll haul it away.